The Power of Dark Chocolate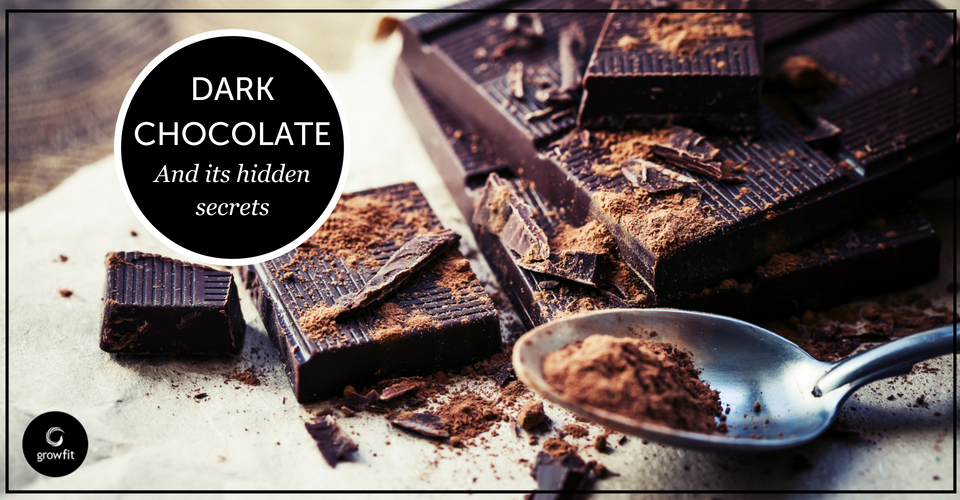 The Power of Dark Chocolate
A couple of hundred years ago, cacao (the chief constituent of chocolate) was prized by our ancestors for its medicinal properties. But as chocolate grew in popularity and became available as a sweet confection, people began enjoying it as junk food. Now, we've finally started going back to exploring it's numerous health benefits. Haven't you heard, the darker the chocolate, the better it is for your health? Well, it's not just a myth. There is some truth to the whole dark chocolate being healthy obsession and we thought we would unravel it for you, here and now.
It is important to remember that not just any chocolate will do. Especially not the milk and sugar loaded products you get on store shelves. To experience its true benefits, you will need to reach for the ones which have 70% or higher levels of cacao.
WHAT MAKES IT SO HEALTHY?
(so much that it has now been classified as a 'Superfood'?)
Dark chocolate is loaded with organic compounds that are biologically active and serve as antioxidants – polyphenols, catechins and flavonols. Studies have shown that it contains more antioxidant activity even when tested and compared to fruits like blueberries and Acai berries.
HEALTH BENEFITS:
LOWERS BLOOD PRESSURE, RISK OF STROKE AND HEART ATTACK 
The flavonols and magnesium in dark chocolate can improve vascular function and help lower blood pressure. Similarly, they can also improve the cardiovascular system by keeping the blood vessels open and regulating the heart rate, reducing the risk of heart diseases.
HELPS TYPE 2 DIABETES SUFFERERS
Cacao increases sensitivity to insulin and helps lower blood sugar levels. As a result, dark chocolate can reduce one's risk of developing Type 2 Diabetes, if taken in moderation.
PROTECTS SKIN AGAINST SUN
If you're planning on hitting the beach, might be worth loading up on dark chocolate in the weeks prior. The reason is that it has bioactive compounds i.e. flavonols, can improve blood flow to the skin, protect against sun-induced damage and increase skin density and hydration.
HELPS PREVENT ASTHMA ATTACKS
Dark chocolate contains three natural ingredients – theobromine, theophylline and caffeine. These work together when ingested and help open constricted bronchial passages and stop bronchospasms. These components also help dark chocolate to act as a cough suppressant.
IMPROVES BRAIN FUNCTION

You may be skeptical but dark chocolate has been shown to increase blood flow to the brain, decrease inflammation and provide important minerals which help prevent the onset of Alzheimer's disease and dementia.
IMPROVES YOUR MOOD

Eating dark chocolate raises serotonin levels in your brain, which can improve your mood, enhance sleep and reduce any painful sensation in your body. A literal 'keep calm and eat dark chocolate' situation!
Now, although there is considerable proof that cacao has various health benefits but this doesn't mean you indulge to your heart's content. You need to choose only chocolate which is organic containing 70% or higher cacao content and consume in moderation. Always remember, more is not better!
If you are on a keto diet or a low-carb diet, we have a few delicious options you can try!
Almond Keto Dark Chocolate Bar
Made with healthy coconut cream, almonds, and dark chocolate is the perfect low-carb snack, with the goodness of cacao. Click on the picture above to buy.
You can even enjoy a delectable breakfast with our nutrition-packed breakfast bar, made from a mix of peanuts, healthy seeds and dark chocolate. Click on the picture above to buy.
Happy, healthy snacking!