Recipe: Ultra Low Carb Hariyali Paneer Rotis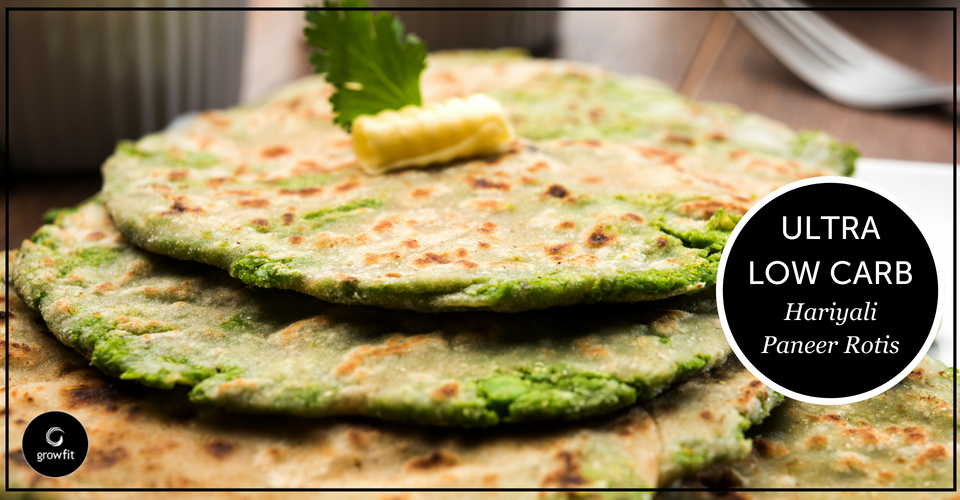 Recipe: Ultra Low Carb Hariyali Paneer Rotis
A delicious winter recipe made with Grow Fit's Ultra Low Carb Flour. Makes an ideal pairing with raita or a beetroot chutney.
Ultra Low Carb Hariyali Paneer Rotis
Low carb rotis with a delicious spinach and cottage cheese stuffing. Tastes great with a raita or beetroot chutney.
1 cup Spinach (finely chopped)
1 cup Paneer (crumbled)
1 1/2 cup Grow Fit Ultra Low Carb Flour
2 tsp Oil
4 tbsp Curds
Ginger-Green chilli paste (1 ½ inch ginger, 2 chillies)
3/4 tsp Salt (or to taste)
Combine all the ingredients together in a deep bowl and knead into soft dough using no water.
Divide the dough into 13 to 15 equal portions and roll out each portion into a roti, using a little flour for rolling. Roll gently to prevent the roti from losing its shape.
Heat a non-stick tava (griddle) and cook each roti on medium heat, till light brown spots appear on both the sides. Use a bit of ghee while cooking the rotis.
Serve hot.