Recipe: Keto Dosa by Meghana Gudivada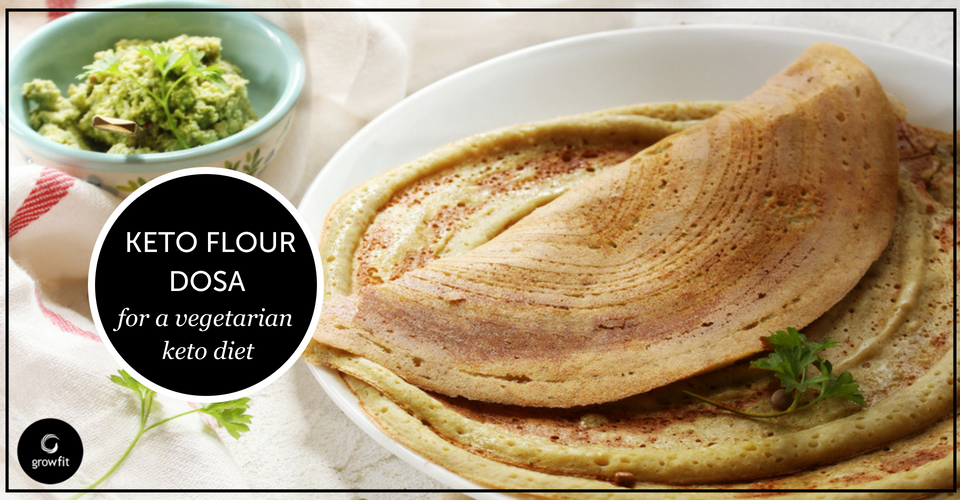 Recipe: Keto Dosa by Meghana Gudivada
Our beloved dosas are delicious yes, but not the most ideal option for someone on a low-carb or keto diet. Here is a recipe by Meghana Gudivada, Founder of Astro Gem Veda, for an eggless keto flour dosa which can let you indulge in your cravings without worrying about ruining your health. Also, they are perfect for a vegetarian keto diet!
50 gms Grow Fit Ultra Low Carb Flour (Keto Flour)
A pinch of Salt
A pinch of Asafoetida (Hing)
1 tsp Ghee
Cheese ((Optional))
Add a pinch of salt and a pinch of asafoetida to the keto flour in a bowl

Add water little by little and whisk until a paste is formed. Wait for a minute as it might harden a little due to water absorption. Continue to add water little by little. Keep whisking till you get a batter-like consistency.

Rub a little ghee inside a pan and pour one ladleful of flour batter into it. Smooth it clockwise till you get a round shape.

Drizzle cheese over it (optional)

Wait until the dosa sides appear flaky and roasted. If necessary, flip the dosa. Take it out and place it onto a serving plate.

Do the same with the rest of the batter till you get 5 small dosas.

Enjoy your cheesy keto flour dosa with some coconut chutney!
---
Want to know more recipes using our Ultra Low Carb Keto Flour? Here's one for some delicious Hariyali Paneer Rotis you can try making at home.
Our Ultra Low Carb Keto Flour is fortified with essential vitamins and is made from all-natural ingredients including almonds, flax, sesame, and psyllium. It is the most versatile keto-compliant flour in the market and can be used to make rotis and breads. One roti made from this flour has only 5g net carbs. It is also great for diabetics. Make the switch today!

 
---
You can also purchase it on Amazon:
---
Follow us on Instagram, Twitter, and Facebook. Head to our online store to order your Ultra Low Carb Keto Flour today.