Recipe: Chocolate Almond Torte With Ganache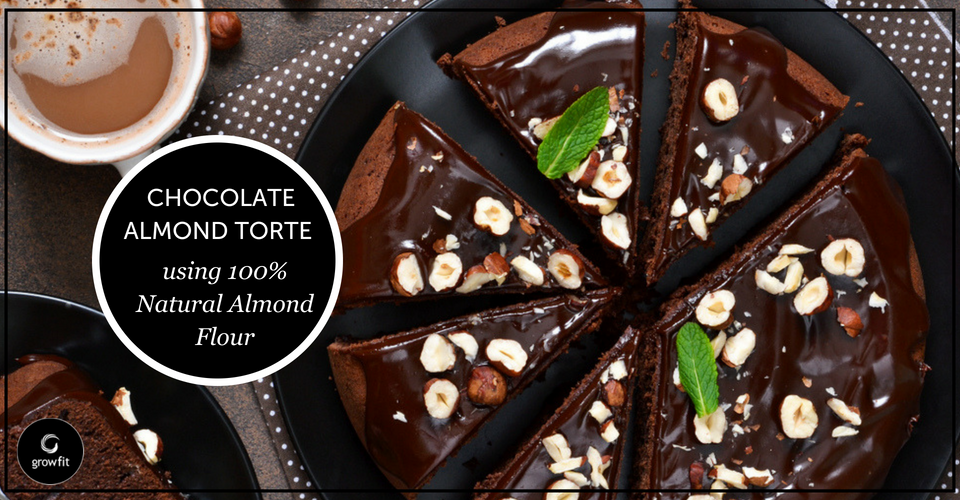 Recipe: Chocolate Almond Torte With Ganache
A delicious mouth-watering recipe of almond torte cake covered with a layer of chocolate ganache. Best of all, it's guilt and grain-free as it is made using our healthy almond flour!
Torte
200 gms Dark Chocolate (chopped )
150 gms Butter (cut into pieces)
5 Eggs (Whites and yolk separated)
165 gms (3/4 cups) Caster Sugar
150 gms (1.5 cups) Grow Fit 100% Natural Almond Flour
Chocolate Ganache
80 ml Fresh Cream
130 gms Dark Chocolate (chopped )
To make the Torte:
Preheat oven to moderate 160 degrees C. Grease a deep 22cm or 9-inch round cake pan and line base and side with baking paper (you can also use 2 regular 9-inch pans to get 2 cakes).

Stir chocolate and butter in a small saucepan over low heat until smooth. Cool it for 10 minutes.

Beat egg yolks and sugar in a large bowl using an electric mixer until it becomes thick and creamy. Fold in the chocolate mixture and almond meal.

Beat the egg whites in a small bowl using the electric mixer till soft peaks start to form. Fold in the chocolate mixture in two batches. Pour the entire mixture into a pan. 

Bake for 55 to 60 minutes. After that, let the cake stand for 15 minutes. 

Remove cake from the pan and leave on a baking paper covered wire rack to cool. 
To make the Ganache:
Bring the cream to boil in a pan. Once you remove the pan from heat, immediately add all the chocolate and stir till smooth. 

Pour over the cake so that it is uniformly covered. Refrigerate for at least 30 minutes before serving.
To get started, buy our 100% Natural Almond Flour today. Made with pure, premium almonds without the skin, the flour is low-carb, keto-friendly and great for weight loss. Packed with fiber, it keeps your cholesterol in check, promotes intestinal health and minimizes inflammation. As a bonus, fewer blood sugar spikes give you more sustained energy too!
---
You can also purchase it on Amazon below:
---
Follow us on Instagram, Twitter, and Facebook. Head to our online store to order your 100% Natural Almond Flour today.