Eating Tips To Control Your Diabetes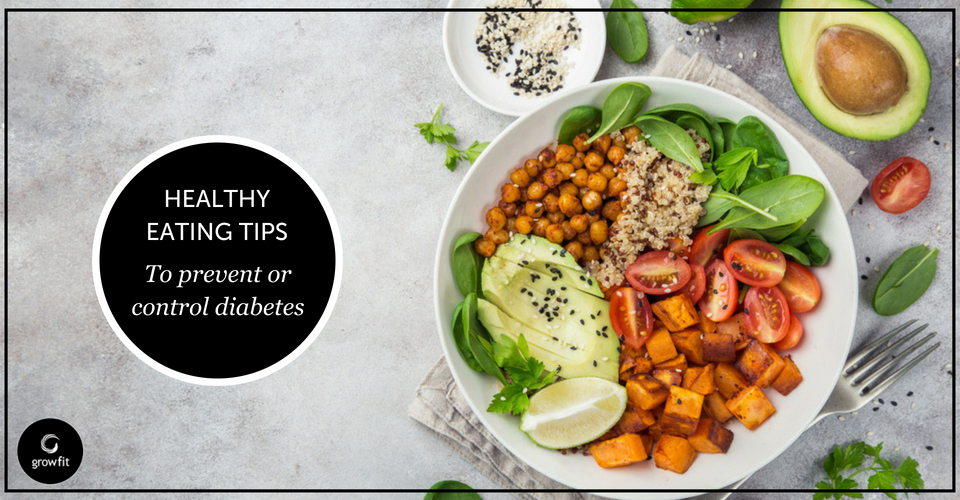 Eating Tips To Control Your Diabetes
Diabetes can be a frustrating medical condition where you have to constantly keep a watch on what you eat, what you drink and your daily fitness routine. But taking steps to control or prevent diabetes doesn't mean living in deprivation, denying yourself different kinds of foods. You don't have to give up your desserts and resign yourself to a lifetime of bland food. On the contrary, it means eating a tasty, balanced diet catered to your needs, that will also boost your energy and improve your mood. You can take as much pleasure from your meals as you like!
Firstly, when you are trying to control or prevent diabetes, it is important to remember that your nutritional needs are the same as everyone else's. But you do need to watch some of your food choices – especially your carbohydrate intake. Secondly, the most important thing which can help you is to lose a little bit of weight. Even if you already have diabetes, it's never too late to make a positive change. Losing 5 to 10% of your total weight can help you lower your blood pressure, blood sugar, and cholesterol levels along with having a profound effect on your mood, energy, and sense of well-being. To achieve that, you need to eat healthier and be more physically active.
WHAT IS A MAJOR RISK FOR DIABETES?
The answer is – belly fat. Being overweight or obese is the biggest risk factor for Type 2 Diabetes. More so, if the weight is concentrated around your abdomen. The reason is that belly fat surrounds most of the abdominal organs and liver and hence is closely linked to insulin resistance. Cutting back on sugary foods and drinks (like soda, energy and sports drinks, coffee drinks, doughnuts, muffins, and candy) can help you lose that weight around your belly and reduce your risk for diabetes.
WHAT ARE SOME OF THE MYTHS SURROUNDING A DIABETES DIET?
You don't have to sacrifice your favorite foods just because you have diabetes. First, let us important to separate the myths from the facts.
Myth: You can never have carbs
Fact: Along with serving size, the type of carbs is the key. Whole grain carbs are safe as compared to starchy carbs as they are high in fiber and are digested slowly, keeping your blood sugar levels from spiking.
Myth: High protein diets are the way to go
Fact: Studies show that eating too much protein, especially animal protein, may actually cause insulin resistance. The key is o eat a balanced diet which incorporates carbohydrates, fats, and protein in healthy quantities.
Myth: Avoid sugar at all times
Fact: You don't have to cut sugar out completely, just have it in limited amounts. Have your desserts, but make sure you keep a watch on the quantity.
Myth: You need to only eat special meals
Fact: Whether you have diabetes or not, healthy eating will be the same. Don't waste effort on creating elaborate special meals.
Try to include more of the following into your eating routines:
Fish, organic chicken, turkey
Premium protein such as eggs, low-fat dairy, beans, unsweetened yogurt
Whole grain cereals and bread
Fresh fruits and vegetables – the more colorful, the better!
Healthy fats such as nuts, flax seed, olive oil, fish oils, and avocado
And try to limit the following:
Deep fried foods
Sugary, greasy snacks such as baked goods, sweets, and chips.
White bread, refined pasta or rice
Low-fat products which replace fat with added sugar. E.g fat-free yogurt
Processed or red meat
Like we said, living with diabetes doesn't mean you give up your beloved chapatis and rotis just because they are high carb. All you have to do is give them a healthy twist. Use a different flour for making them and you can safely eat them stress-free. We know that the majority of the Indian population loves desi and homemade food, which is why below we have an option for you to indulge in!
Try our Ultra Low Carb Flour which is made from all-natural ingredients including almonds, flax, sesame, and psyllium. It contains high fiber with only 5g net carbs per roti and reduces blood sugar spikes. Perfect for someone wanting to prevent or control diabetes, but do it their way, with their favorite foods.
You can also get it on Amazon:
---
Follow us on Instagram, Twitter, and Facebook. Head to our online store to order your Ultra Low Carb Flour today.