6 Super-Easy Ways To Include More Protein In Your Diet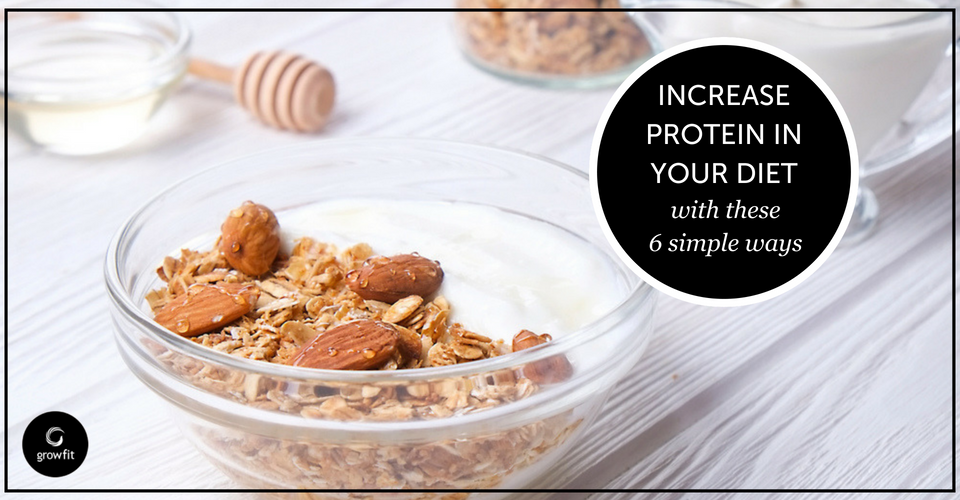 6 Super-Easy Ways To Include More Protein In Your Diet
Protein is extremely essential for building strength and muscle, but if you are a vegetarian, the options out there may be slim for getting the required protein that your body needs. You may find it challenging to get on a high protein diet, especially when it comes to your meals in between your meals. In other words, your snacks.
Many people turn to protein supplements but choosing the right one is also a hassle. Which one won't negatively affect my health? Which one won't end up making me down more calories? Which brand can I trust? – the list of worries regarding protein supplements is endless.
Luckily, we have a few general rules you can follow and save yourself the trouble. A high protein intake can definitely help with weight loss, increase muscle mass and improve health, to name a few.
Here are a few ways you can increase your protein intake –
1. Top your foods with almonds
Almonds are high in magnesium, fiber, and monounsaturated fat while being low carb. They also contain 6g of protein in a 28g serving, making them one of the nuts with the highest amount of protein. So sprinkle some chopped almonds over your salads, oatmeal, cereals or yogurt to boost the protein content of your meal or snack. Adds some extra crunch too!
2. Have Greek Yogurt
Greek Yogurt is a high-protein food which is made by removing the whey and other liquids from regular yogurt, making it more richer and creamier. A 240g serving gives you almost 17-20g of protein. You can use Greek Yogurt as a substitute for sour cream in dips or sauces. It also goes well with chopped berries and nuts.
3. Pair peanut butter with fruit
Even though fruits are rich in antioxidants and nutrients, they are low in protein. Pairing peanut butter, a high protein food which has a creamy texture with fruit can not only increase the total protein content you consume but also complement fruits like apples and pears quite deliciously.
4. Pair baby carrots with hummus
Carrots are low in protein content but contain complex carbs to sustain your energy levels. They also contain potassium which helps regulate your blood pressure and control muscle contractions. Pairing them with hummus, which is rich in protein and unsaturated fats, can give you a snack which contains enough protein to boost your activity.
5. Snack on cottage cheese and edamame
Cottage cheese and edamame are both tasty snacks which are also very high in protein. In fact, studies show that cottage cheese can be as filling and satisfying as eggs and in some cases can help you burn fat. You can try it with chopped nuts and seeds or cinnamon for breakfast. Similarly, edamame or steamed soybeans make for a great high protein snack. 1 cup of edamame has approximately 17g of protein and 180 calories and is also rich in antioxidants.
6. Have a protein shake for breakfast
A vegetable shake or a fruit smoothie for breakfast can be a great energy booster but gives you very little protein. Add a scoop (28g) of whey protein powder to your shake. This will give you an added 20g of protein to fulfill your body's needs.
The bottom line is that getting enough protein is very important for your nutrition. Following the simple tips above can help you reach that goal without too much of a hassle.
Want to increase your protein intake and still eat familiar foods like rotis? Our High Protein Flour can help you do that in a healthy way. Made with high protein vegetarian ingredients like oats and amaranth, it is also fortified with flax and psyllium for healthy fats and fiber. One roti made from this flour contains 9g of protein!

Our Physique Builder Post Workout Smoothie also packs quite the protein punch. A perfect blend of whey protein concentrate and pea protein, ur smoothie promotes rapid protein delivery and contains chia seeds for Omega-3 and fibre. A delicious pick-me-up post workout!
---
For effective results on a personalized weight loss diet plan, consult an expert at Grow Fit. Download the App and get started on a better lifestyle today.